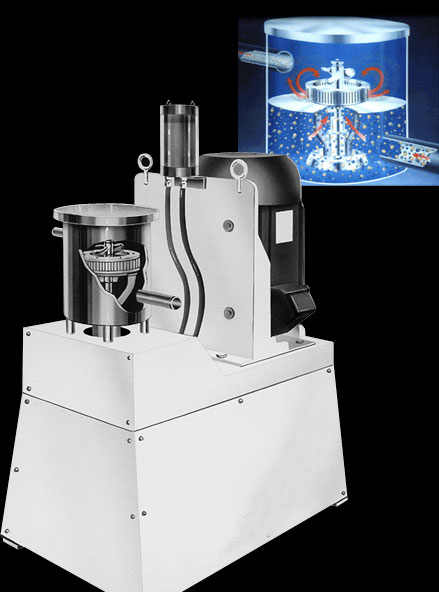 True continuous operation with thru put rates of 3 to 500 GPM
Rotor tip speeds of 9,000 feet per minute
Capable of 7 Hegman grind on many pigments
Higher viscosity rates
Variable speed drive, temperature readout
The CF series random path approach guarantees more work per pass providing better dispersions and emulsions.

This Kady Mill brings a continuous flow of power to your production line.
Talk about high energy. The rotor stator technology in our continuous flow mill really stirs things up. See for yourself.
TEST OUR DISPERSION MILL
Free where it matters the most right in your own existing production line. You can park this mighty mite in only 8 sq ft of floor space.
Get More Information:
Contact Todd Kritzer
Or Call (USA) 1-800-367-5239
We make our units efficiently and we understand that space is a valuable asset in the manufacturing world this is why we are pleased to say our continuous flow machines only take 8 square feet of your floor space. We also guarantee that once your product passes through our continuous flow mills you will have a completely homogenous product.
We have worked with a number of different industries over the years that work with a variety of different applications. Our goal is to work hard so you do not have to work harder than you should. We take your application in account with every product we sell in order to provide you with a product that will fit your process with minimal effort on your part.